Sorry it's been so long! I have a ton of things to tell ya'll about, but the boy is doing midterms and I haven't had a moment at the computer. Lots of posts re: family, old friends, and the Hood to Coast coming soon!
For now, Mama M at
My Little Life
, hostess of 5 Question Friday, is at it again. Be sure to visit her and link up!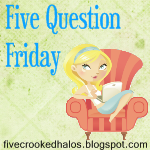 1. What do you do when you have time to yourself?


Sleep. I'm a champion napper. I also like to sit on my balcony, drink tea, watch the birds, and read a book.


2. When you look out your kitchen window, what do you see?


A Japanese Maple, my grill, and lots of squirrels.


3. Who/What would you want to be reincarnated as?

Claire, our little tabby cat. That kitty has the life. Or a hummingbird. They're pretty fascinating.


4. What is your biggest pet peeve about other people's kids?


Do you mean what pet peeves do I have about other people in relation to their kids? I don't have any pet peeves about other people's kids cause I believe kids are a reflection of their parents. I can't stand it when kids are disrespectful, but when the parents are not being firm when the situation calls for it and becomes just as whiny as the child, why would you expect respectful behavior?


5. Regular or Diet soda?

Regular. Diet leaves a weird taste in my mouth.